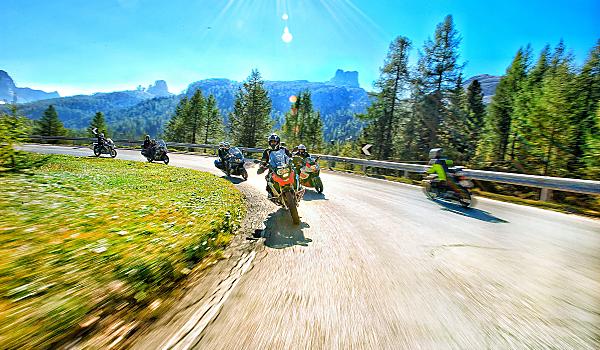 Short Tours
Your motorcycle holiday stop & go
Experience an unforgettable motorcycle tour through the breathtaking Dolomites! Accompanied by experienced tour guides, you will spend four nights on our short tour in the beautiful Hotel Almhof Call in South Tyrol and undertake two exciting tours through the impressive landscape of the Dolomites.
Enjoy the freedom and adventure on two wheels while we take care of everything else. We have selected the best routes for you to show you the best of South Tyrol and the Dolomites. We also paid attention to your safety and most of all to your driving pleasure.
Pleasant and comfortable accommodation with excellent cuisine awaits you at the Hotel Almhof Call. After the exciting tours, you can relax in the hotel's SPA with wellness oasis and swimmingpool and recharge your batteries for the next day.
Come with us on a journey through the impressive landscape of the Dolomites and experience unforgettable moments on your motorbike. We look forward to welcoming you on our Short Tour!
What's included?
4 nights in a 4-star superior hotel
(longer stays - shorter ones are of course possible)
3/4 wellfeeling board
Free access to the SPA center and swimming pool
2 guided motorcycle tours
1 Dolomites Tour Ride T-Shirt
1 Road map of the Dolomites
New friendships
lot's of fun
Unforgettable emotions
Memories for eternity
Activity program for non-motorcyclists
We kindly inform you that the guided tours will be organised only during the week from monday to friday (never on saturday or sunday).
Guided Tours :
from the 16. of May to the 29. of June 2024 and
from the 07. of September to the 13. of October 2024