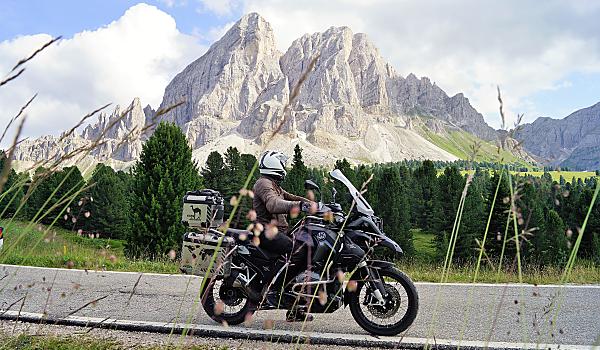 The adventure of your life
Conquer all 36 passes of the Dolomites alone
Experience the breathtaking beauty of the Dolomites in a whole new way with the Dolomites Pass King! Accept the challenge of conquering all 36 passes of the Dolomites on your own motorcycle tour and secure your place as the king of the passes!
This specially designed motorcycle adventure takes you through the picturesque landscapes and challenging roads of the Dolomites - Italy and gives you the opportunity to prove yourself on your motorcycle. Enjoy the freedom and independence of a solo tour while becoming part of a small but very exclusive community of pass kings.
Our Pass King package is suitable for experienced motorcyclists who are already familiar with the Dolomites and are looking for a special kind of challenge.
So don't hesitate any longer and embark on the adventure of your life! Become the Pass King of the Dolomites now!
What's included?
7 nights in a 4-star superior hotel
(longer - shorter stays are of course possible)
3/4 wellfeeling board
Free access at the SPA center and swimming pool
4-5 Solo motorbike tours (250-450 km)
1 Dolomites Tour Ride T-Shirt
1 Road map of the Dolomites
1 Dolomites Tour Ride Trophy
1 Pin King of the Dolomites Pass King
1 Recognition King of the Dolomites Passes
The motorcycle challenge of your life
Endless curves and hairpin bends
Activity program for non-motorcyclists