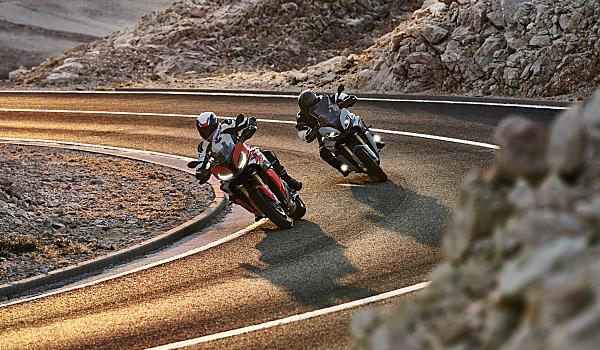 A success-story
Official Partner BMW MOTORRAD
Experience the perfect combination of first-class motorcycles and breathtaking roads in the Dolomites with the unique cooperation between BMW Motorrad and Dolomites Tour Ride, 1st Test Ride Center in Italy!
Since we have worked together, we have welcomed numerous enthusiastic motorcyclists on our tours and offered them an unforgettable experience on two wheels. Our latest BMW motorcycles offer excellent performance and guarantee a safe and exciting driving experience.
But that's not all. As an official BMW Motorrad partner, we offer you the opportunity to take a test ride on a large number of BMW motorcycles before you decide to buy your dream bike from your local dealer. Our trained professionals are available to help you choose the perfect model for your needs and preferences.
In addition, we offer you a wide range of guided tours in the Dolomites that are specially designed for BMW motorcycles and their drivers. You will be accompanied by experienced tour guides and experience the beautiful landscape of the Dolomites and South Tyrol in a completely new way.
In short, our cooperation between BMW Motorrad and Dolomites Tour Ride - 1st BMW Test Ride Center is a success story that you should not miss! Come by and experience the ultimate motorcycle adventure in the Dolomites!
Did you know?
With us you have the opportunity to test the latest BMW Motorrad motorcycle models and enjoy the best riding experience in the magnificent Dolomites. With us you can embark on an unforgettable journey and explore the most beautiful roads in South Tyrol. Book your test ride now and enjoy the incomparable BMW Motorrad feeling. We have 12-17 of the latest motorcycle models available throughout the summer. You then spend your stay in the extraordinary BMW Motorrad Test Ride Hotel Almhof Call****S. A special 10% discount on your stay is reserved for all BMW Motorrad Federclub members (cannot be combined with other offers and/or discounts).