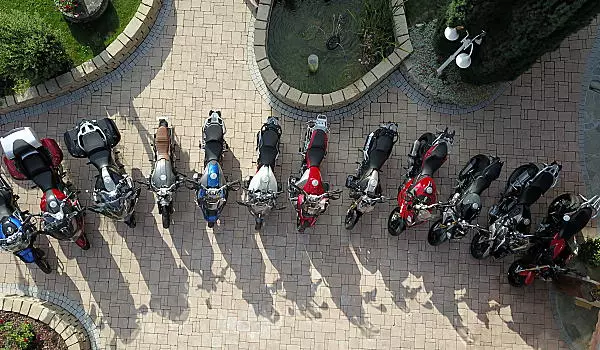 Ride your dream bike
1. BMW Test Ride Center in the Dolomites - South Tyrol - Italy
The rental of BMW Motorrad test bikes is an ideal solution for those who want to test the latest innovations in the world of two wheels. Thanks to our rental service, you can rent a BMW Motorrad test motorbike and experience the pleasure of riding a latest generation motorbike on the most beautiful roads and hairpin bends of the Dolomites and Trentino Alto Adige.
We have included all the necessary information about our BMW Motorrad test bike rental services, as well as details on the models available and their prices.
Don't hesitate to contact us for more information or to book your BMW Motorrad test bike today!
Rental cost:
€ 212.50 per motorbike per day
€ 110.00 per motorbike per day special price for guests of the Almhof Hotel Call****S
The rental is possible for a maximum of 2 consecutive days.
The test drive includes a maximum of 350 km per day (1 Euro will be calculated for each additional km), and depending on the model of the motorbike, the self-retention is 500-1.000 € plus 22% VAT in case of any damage.
As a payment method we only accept credit cards (VISA or Mastercard) and of course we need an identity card and a valid driving licence.
The motorcycle model can only be booked on site.
We do not provide helmets or motorcycle clothing.
We do not bring any motorcycle to your position.
Rent a motorcycle in South Tyrol - Dolomites - Italy. Official Partner BMW Motorrad
The photos of the motorcycles are only an example and the colors of the motorcycles on site may vary.
Dolomites Tour Ride: your motorbike rental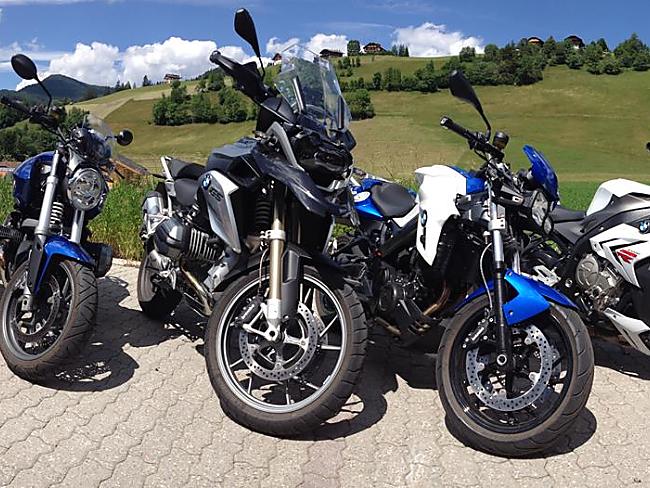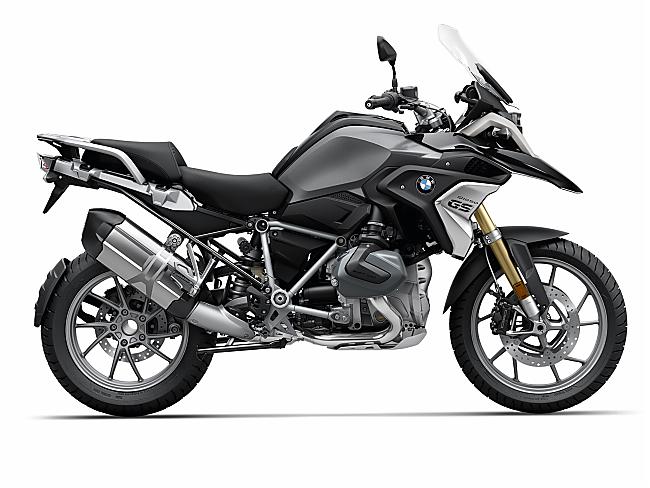 R 1250 GS
disposable form 17.05. till 15.10.23
Engine: Air/liquid-cooled two-cylinder four-stroke boxer engine with two overhead spur-gear driven camshafts, a balancer shaft and variable intake camshaft control BMW ShiftCam
Displacement: 1,254 cc
Rated output: 100 kW (136 hp) at 7,750 rpm
Top speed: > 200 km/h
Consumption per 100 km according to WMTC: 4.75 l
Type of fuel: Premium unleaded petrol, octane number 95 (RON), adaptation by engine control (91 to 98 RON)
Wheelbase: 1,514mm
Tires front: 120/70 R 19
Tires rear: 170/60 R 17
ABS: BMW Motorrad Integral ABS Pro (partial integral, lean angle optimized)
Seat height at empty weight: 850 mm / 870 mm (SA lowering 800 mm / 820 mm)
usable tank volume: 20 l
Curb weight ready to drive, full tank: 249 kg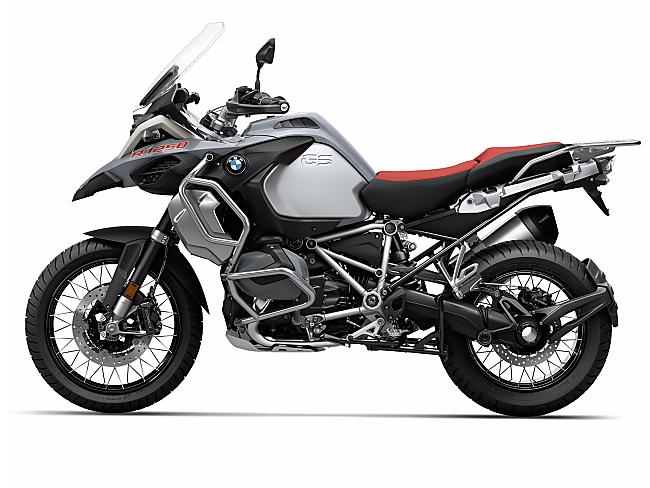 R 1250 GS ADV
disposable from 17.05. till 15.10.23
Engine: Air/liquid-cooled two-cylinder four-stroke boxer engine with two overhead spur-gear driven camshafts, a balancer shaft and variable intake camshaft control BMW ShiftCam.
Displacement: 1,254 cc
Rated output: 100 kW (136 hp) at 7,750 rpm
Top speed: > 200 km/h
Consumption per 100 km according to WMTC: 4.75 l
Type of fuel: Premium unleaded petrol, octane number 95 (RON), adaptation by engine control (91 to 98 RON)
Wheelbase: 1,504mm
Tires front: 120/70 R 19
Tires rear: 170/60 R 17
ABS: BMW Motorrad Integral ABS Pro (partial integral, lean position optimized)
Seat height when empty: 890 mm / 910 mm
usable tank volume: 30 l
Curb weight ready to drive, full tank: 268 kg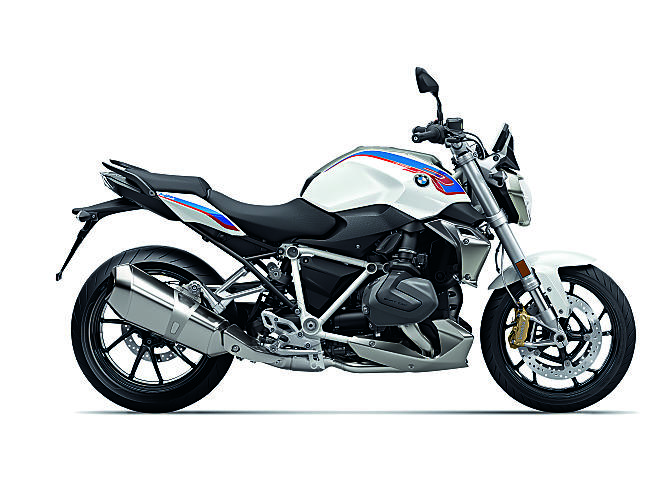 R 1250 R
disposable from 17.05.23 till 15.10.23
Engine: Air/liquid-cooled two-cylinder four-stroke boxer engine with two overhead spur-gear driven camshafts, a balancer shaft and variable intake camshaft control BMW ShiftCam
Displacement: 1,254 cc
Rated output: 100 kW (136 hp) at 7,750 rpm
Consumption per 100 km according to WMTC: 4.75 l
Fuel type: Premium unleaded (max. 15% ethanol, E15), 95 RON/RON, 90 AKI
Wheelbase: 1,512mm
Tires front: 120/70 ZR17
Tires rear: 180/55 ZR17
ABS: BMW Motorrad Integral ABS Pro (partial integral, lean position optimized)
Seat height when empty: 820 mm (low driver's seat: 760 mm; Sport seat: 840 mm)
Usable tank volume: 18 l
Curb weight ready to drive, full tank: 239 kg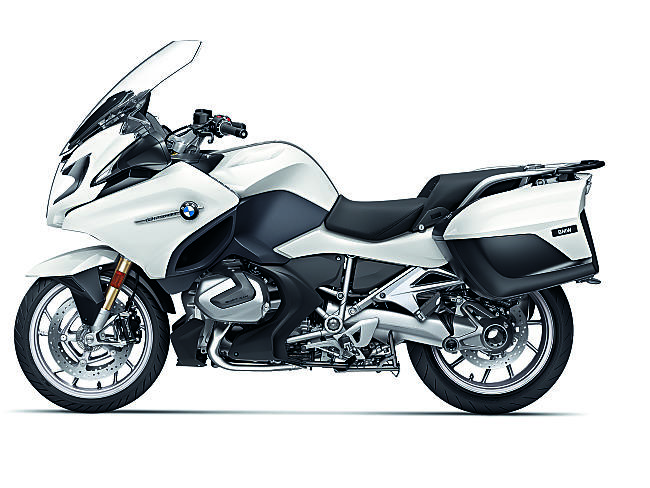 R 1250 RT
disposable from 17.05. till 15.10.23
Engine: Air/liquid-cooled two-cylinder four-stroke boxer engine with two overhead spur-gear driven camshafts, a balancer shaft and variable intake camshaft control BMW ShiftCam
Displacement: 1,254 cc
Rated output: 100 kW (136 hp) at 7,750 rpm
Top speed: over 200 km/h
Consumption per 100 km according to WMTC: 4.75 l
Type of fuel: Premium unleaded petrol, octane number 95 (RON), adaptation by engine control (91 to 98 RON)
Wheelbase: 1,485mm
Tires front: 120/70 ZR 17
Tires rear: 180/55 ZR 17
ABS: BMW Motorrad full integral ABS Pro (fully integral braking function, lean angle optimized)
Seat height: 805 / 825 mm (SA high seat: 830 / 850 mm; SA low seat: 760 / 780 mm)
Usable tank volume: 25 l
Curb weight ready to drive, full tank: 279 kg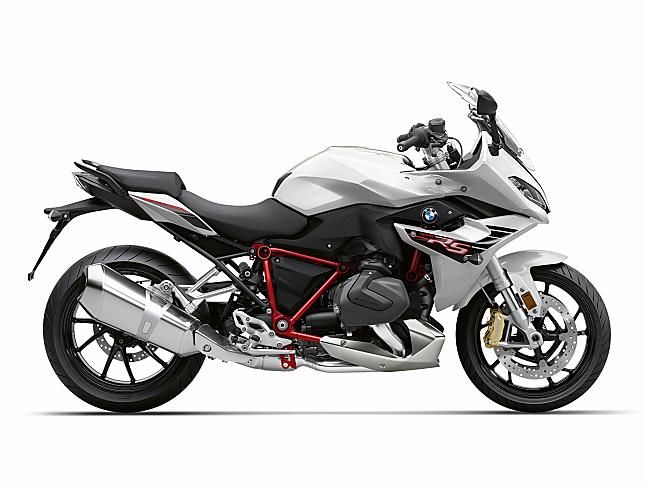 R 1250 RS
disposable from 17.05. till 17.10.23
Design: Air/liquid-cooled two-cylinder four-stroke boxer engine with two overhead spur-gear driven camshafts, a balancer shaft and variable intake camshaft control BMW ShiftCam
Rated output: 100 kW (136 hp) at 7,750 rpm
Displacement: 1,254 cc
Consumption per 100 km according to WMTC: 4.75 l
Fuel type: Premium unleaded (max. 15% ethanol, E15), 95 RON/RON, 90 AKI
Wheelbase: 1,527mm
Tires front: 120/70 ZR17
Tires rear: 180/55 ZR17
ABS: BMW Motorrad Integral ABS Pro (partial integral, lean position optimized)
Seat height when empty: 820 mm (low driver's seat: 760 mm; Sport seat: 840 mm)
Usable tank volume: 18 l
Curb weight ready to drive, full tank: 243 kg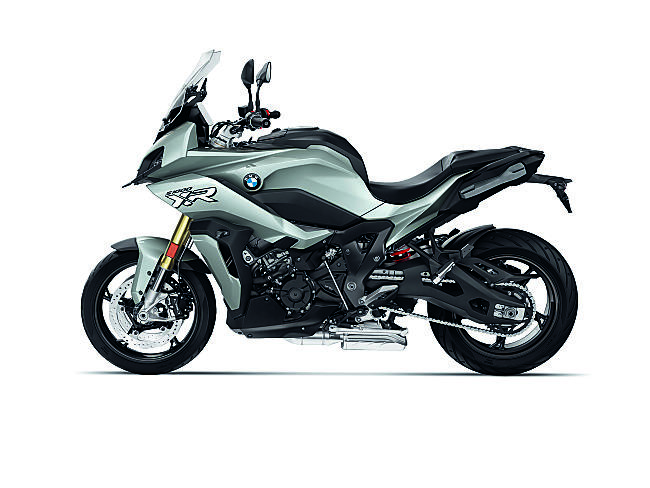 S 1000 XR
disposable from 17.05. till 15.10.23
Design: Oil/water-cooled 4-cylinder 4-stroke in-line engine, four valves per cylinder
Displacement: 999 cm³
Rated power: 121 kW (165 hp) at 11,000 rpm
Top speed: over 200 km/h
Consumption per 100 km according to WMTC: 6.2 l/100 km
Fuel type: Super plus unleaded (max. 5% ethanol, E5) / RON 98 / 93 AKI
Wheelbase: 1,522mm
Tires front: 120/70 ZR 17
Tires rear: 190/55 ZR 17
ABS: BMW Motorrad Integral ABS (Partial Integral)
Seat height at empty weight: 840 mm (790 mm)
Usable tank volume: approx. 20 l
Curb weight with standard equipment ready to drive, fully tanked: 226 kg
S 1000 R
disposable from 17.05. till 15.10.23
Engine: Oil/water-cooled four-cylinder four-stroke in-line engine with four valves per cylinder
Displacement: 999cc
Rated output: 121 kW (165 hp) at 11,000 rpm
Top speed: Over 200 km/h
Consumption per 100 km according to WMTC: 6.2 l
Fuel type: Super Plus unleaded (max. 5% ethanol, E5) / RON 98 / 93 AKI
Wheelbase: 1,450 mm
Tires front: 120/70 ZR 17
Tires rear: 190/55 ZR 17
ABS: BMW Motorrad Integral ABS, partially integral
Seat height: 830 mm (OE driver's seat low: 810 mm, OE driver's seat high: 850 mm)
Usable tank volume: 16.5 l
Curb weight ready to drive, fully fueled: 199 kg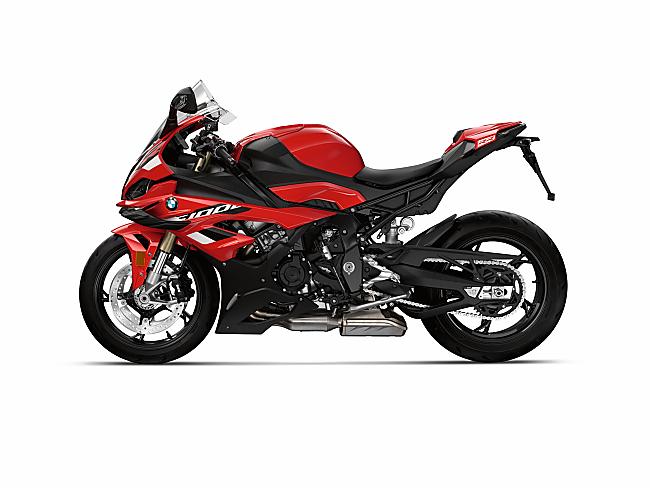 S 1000 RR
Non disposable
Design: 4-cylinder, 4-stroke in-line engine (BMW ShiftCam)
Displacement: 999cc
Rated output: 154 kW (210 hp) at 13,750 rpm
Top speed: 303 km/h
Consumption per 100 km according to WMTC: 6.4 l
Fuel type: Premium (plus) unleaded petrol, octane number 95-98 (RON) (knock control; rated output at 98 RON)
Wheelbase: 1,457mm
Tires front: 120/70 ZR17
Rear tyres: 190/55 ZR17
ABS: BMW Motorrad Race ABS partially integral, Brake-Slide-Assist
Seat height at empty weight: 824 mm
Usable tank volume: 16.5 l
Curb weight ready to drive, full tank: 197 kg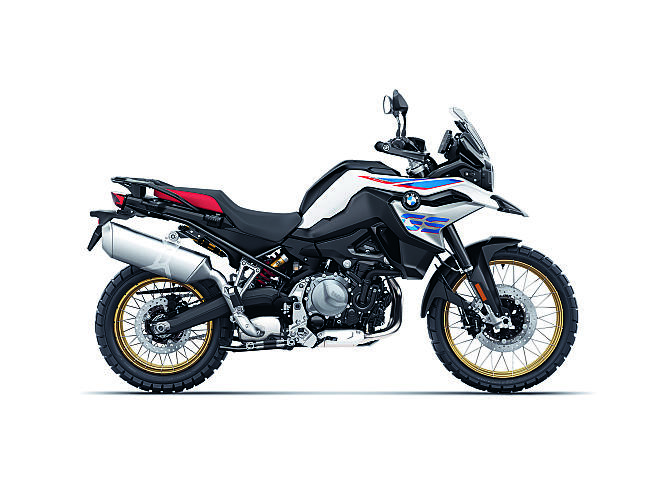 F 850 GS
disposable from 17.05. till 15.10.23
Design: Water-cooled 2-cylinder, four-stroke engine with four rocker arm-actuated valves per cylinder, two overhead camshafts and dry sump lubrication
Displacement: 853 cc
Rated output: 70 kW (95 hp) at 8,250 rpm
Top speed: over 200 km/h
Consumption per 100 km according to WMTC: 4.2 l
Type of fuel: unleaded premium petrol, minimum octane number 95 (RON)
Wheelbase: 1,593 mm
Tires front: 90/90 R21
Rear tyres: 150/70 R17
ABS: BMW motorcycle ABS
Seat height when empty: 860 mm
Usable tank volume: 15 l
Curb weight ready to drive, full tank: 233 kg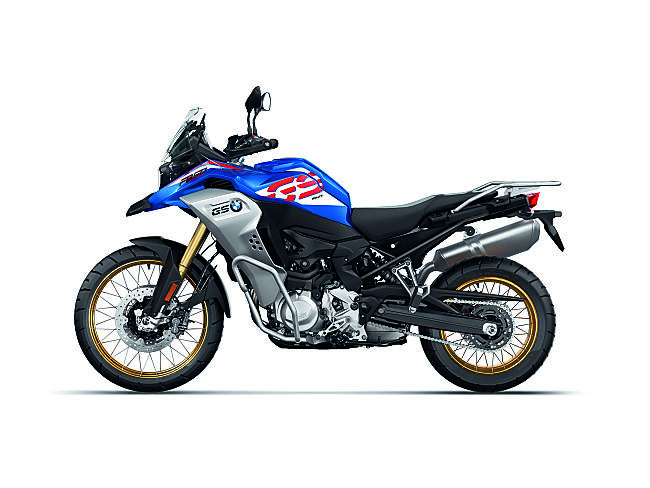 F 850 GS ADV
disposable from 20.05. till 10.06 and from 09.09. till 01.10.23
Design: Water-cooled 2-cylinder, four-stroke engine with four rocker arm-actuated valves per cylinder, two overhead camshafts and dry sump lubrication
Displacement: 853 cc
Rated output: 70 kW (95 hp) at 8,250 rpm
Top speed: over 200 km/h
Consumption per 100 km according to WMTC: 4.2 l
Type of fuel: unleaded premium petrol, minimum octane number 95 (RON)
Wheelbase: 1,593 mm
Tires front: 90/90 R21
Rear tyres: 150/70 R17
ABS: BMW motorcycle ABS
Seat height when empty: 875 mm
Usable tank volume: 23 l
Curb weight ready to drive, full tank: 248 kg
offers and packages
hotel and motorbike rental in South Tyrol